Franklin Graham took to Facebook following deadly tornadoes that swept through Oklahoma, Texas and Louisiana. Graham explaining that the relief teams from both Samaritan's Purse and Billy Graham Rapid Response are ready to help.
Rev. Graham also called for prayer for the areas hardest hit, as well as other states in the crosshairs as reports indicate there is a lot more severe weather on the way:
---
It's tornado season. Strong storms tore through Texas, Oklahoma, and Louisiana overnight, leaving at least 6 people dead and doing lots of damage. Join us in praying for all of those facing devastating loss this morning. So much can change in the matter of a few seconds as these tornadoes touch down. Today we have staff assessing how Samaritan's Purse can help in the hardest-hit area around Onalaska, Texas, and we have deployed Billy Graham Evangelistic Association Rapid Response chaplains to minister and pray with people in the community. Reports say that more severe weather is on the way today with other states in the crosshairs of severe storms.
---
Fox News Report Below:
Tornadoes rip through Oklahoma, Texas and Louisiana, killing at least 6
At least six people were killed after tornadoes tore through parts of Texas, Oklahoma and Louisiana Wednesday evening into Thursday, splintering homes and overturning a semi-truck on an interstate.
The National Weather Service's (NWS) Storm Prediction Center (SPC) said there were preliminary reports of 26 tornadoes throughout the day Wednesday across the Southern Plains, with the number likely to go up as the severe weather moves across Mississippi on Thursday.
"We had over two dozen reports of tornadoes, one of them proving fatal in Oklahoma last night," Fox News senior meteorologist Janice Dean said on "Fox & Friends."
"It's not over yet," Dean added. "We're going to see the potential for strong storms, including deadly tornadoes, the risk for deadly tornadoes across portions of Louisiana, Alabama, Mississippi, through Georgia and Florida, and then the Carolinas."
Among the dead was a trailer factory worker, who was killed in southern Oklahoma's Marshall County when a tornado struck Madill, near the Red River, about 4:30 p.m. Wednesday, causing widespread damage to the town.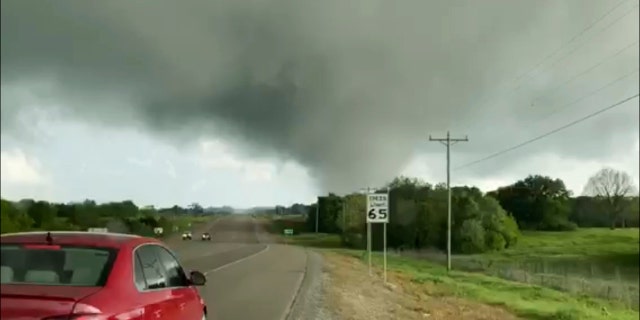 Marshall County Emergency Management Director Robert Chaney told the Associated Press the person's body was found about a fourth of a mile from J&I Manufacturing, a trailer factory outside town where a suspected twister hit just as the workforce was leaving for the day, causing severe damage.
Video from Prescott Bishop shows the tornado as it struck Madill, Okla.
In Texas, at least three people were killed when an apparent tornado touched down about 6 p.m. Wednesday near Onalaska, about 75 miles north of Houston, the Polk County Emergency Management System said in a statement.
The storm rumbled east through Seven Oaks and caused severe damage to homes and other structures, said Carrie Miller, a spokeswoman for Polk County Judge Sydney Murphy.
"It's a lot of devastation," Charles Stephens, who lives in Polk County, told the Houston Chronicle. "I don't think anybody is going to be able to get [into my neighborhood]."
He added one person in his neighborhood was found dead in the water and two others – including a boy – were injured.
Texas Gov. Greg Abbott said in a statement that his office was "working with local officials to provide immediate support to the areas devastated by this tornado. The state has already deployed response teams and medical resources to help Texans in need and to provide assistance to these communities."
The NWS said a "confirmed large and extremely dangerous tornado" was spotted about 6 p.m. in Polk County on Wednesday. A storm chaser described it as the biggest he'd ever seen, according to KTRK-TV of Houston.
Residents were reportedly trapped amid major structural damage to upward of 50 homes in the area, prompting fire departments to be deployed from neighboring counties. Homes were completely destroyed in the town of Onalaska and trees were uprooted throughout the area.
Specialized personnel are working to rescue those impacted by the tornado and emergency officials ask residents to stay away from the area, as additional traffic may hinder their response.
In Louisiana, a woman was killed on a bridge in Woodworth, 15 miles south of Alexandria, due to the severe weather, the Rapides Parish Sheriff's Office told KALB-TV.
he Alexandria campus of Louisiana State University also saw some damage from the storm.
The university tweeted, "All resident students safe. There is damage to DeWitt Livestock building and a camper flipped over." The campus was also left without power.
A Louisiana man found dead after a witness saw him try to retrieve a trash can from water near a drainage ditch. He lost his footing and was swept away by floodwaters, DeSoto Parish Sheriff Jayson Richardson told The Shreveport Times.
"There was some pretty extreme flooding here in Mansfield. Water like I've not seen in many, many years, if ever," the sheriff told the newspaper. "Basically the water rose really fast and we had to rescue some people out of homes. I think we had about 20 or so homes that people were flooded in."
More than 100,000 customers from Texas to Mississippi were without power Thursday as the severe weather moved through, according to poweroutage.us, which tracks utility reports.
According to Dean, the storms that caused the destruction overnight are moving through Mississippi early Thursday into Alabama, bringing the threat of tornadoes, flooding, and high winds.
The storms are forecast to move north and east through the day, with the threat extending to Georgia, Florida, and the Carolinas by nighttime.
"This is going to be an ongoing situation throughout the next 12 to 18 hours, certainly watches and warnings will be posted throughout the day today across the Southeast in towards the Mid-Atlantic including the Carolinas later today," Dean said.